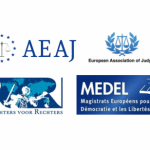 Judges for Judges took notice with great concern of the recent developments in Poland regarding the upcoming hearings by the Disciplinary Chamber of the Supreme Court.
Together with three European Associations of Judges and Prosecutors we have sent a letter to the President of the European Commission, calling upon the European Commission to (i) urgently request the Court of Justice of the European Union for a penalty payment,  (ii) start new infringement procedures and (iii) address the prosecuting authority urging it to abandon immediately the disciplinary proceedings.
Moreover, we publicly support the open letter 'Before it's too late', published by 37 prominent worldwide academics in the field of International and Comparative Law.