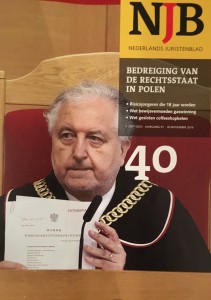 Blog (English translation) by J.W. Fokkens, former Attorney General of Dutch Supreme Court & C.H.W.M. Sterk, member Dutch Council for the Judiciary.
Between 5th and 7th October last we visited Warsaw with a group of about fifteen people, as part of a program by the Dutch Academy for Public Administration (NSOB). During this visit we met with prof. Andrzej Rezplinski, president of the Constitutional Court, and seven other judges, among whom was also Darius Zawistowski, chairman of the Polish Council for the Judiciary.
The things our Polish colleagues told us troubled us to such a degree that we feel the need to openly express our concern and share it with the legal community.
The president of the Constitutional Court rose to address us. He spoke softly, clear and to the point, but also dazed, as if he could still not believe what he was about to say. Every time when, during this speech, he touched upon a violation of the constitution, he waved the small booklet he held in his hand: stressing again and again that he would remain loyal to the Constitution, because that is the anchor of any judge under the Rule of Law.
He started out his speech by pointing out that for the last year, Poland has been ruled by Jaroslaw Kaczynski, even though the latter is nominally only a member of the Polish Parliament. This means that the president, prime-minister and all the members of government abide by the commands and whims of this strongman. Every week, they come to his house to receive their instructions (violation of the Constitution). Kaczynski is a great admirer of the German legal philosopher Carl Schmitt, who is controversial for his initial support to the regime of Adolf Hitler. In Schmitt's worldview, the Sovereign is central, he expresses the will of the nation, and therefore should –in short- have all the power in a State. Based on these ideas, Kaczynski operates without regard for the principles of the Rule of Law, the separation of powers or an independent judiciary (violation of the Constitution). Kaczynski uses all his power to wage war – a word prof. Rezplinski used repeatedly – against the independence of the judiciary (violation of the Constitution). His goal is to destroy that independence and reshape the judiciary into an instrument loyal to his nationalistic political agenda (violation of the Constitution).