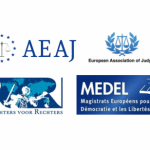 The Disciplinary Chamber of the Polish Supreme Court has waived the immunity of Judge Igor Tuleya, suspended him from all judicial duties and cut his remuneration by 25% on 18 November 2020.
The interim measures of the Court of Justice of the European Union have been blatantly ignored in order to continue these unlawful activities. Serious irreparable damage to Polish judges has already been done and the chilling effect on the Polish judiciary is now increased even further.
Seen the gravity of the situation, Judges for Judges and three European Associations of Judges and Prosecutors, in a new joint statement call upon the Council of the European Union to clearly and unequivocally uphold the fundamental value of judicial independence in the European Union and its Member States, and therefore to urgently respond to the Polish rule of law crisis and make sure that the government of Poland veers away from the previously chosen path and takes all appropriate steps to restore and respect the independence of the judiciary.