Gepubliceerd op: 13 maart 2018 in:
Activiteiten
,
Algemeen
|
Comments Off

on Uitnodiging mini-event en Camera Justitia Night op 29 maart 2018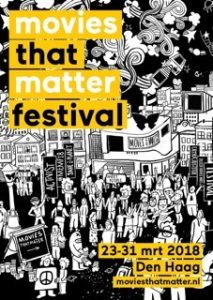 Vrienden van Rechters voor Rechters,
Donderdag 8 maart 2018 is de kaartverkoop begonnen voor het jaarlijkse Movies that Matter Festival. Dit festival gaat op vrijdag 23 maart van start in Filmhuis Den Haag en Theater aan het Spui en duurt tot en met zaterdag 31 maart 2018.
Er is ook dit jaar een speciale Camera Justitia programmering. Er staan acht indrukwekkende films (zowel fictie als documentaire) geprogrammeerd, geflankeerd door sessies over juridische dilemma's, waarheidsvinding, internationaal recht en de strijd tegen straffeloosheid. Zo vertelt Kathryne Bomberger, Directeur-generaal van de Internationale Commissie voor Vermiste Personen, bijvoorbeeld tijdens de Camera Justitia Masterclass op donderdagmiddag 29 maart 2018, aan de hand van filmfragmenten over haar werk. Op donderdagavond 29 maart 2018 vanaf 20:00 uur kent een internationale jury tijdens de feestelijke Camera Justitia Night de Gouden Vlinder Camera Justitia Award en € 5.000 toe aan de regisseur van de winnende film. Na de uitreiking volgt er een vertoning van de genomineerde documentaire Truth Detectives van Anja Reiss. Op de website van de regisseur wordt de inhoud van de documentaire als volgt omschreven:
All around the world, human rights activists, journalists and lawyers collect evidence of human rights violations – with the help of victims. Using mobile devices to film and photograph their experiences, they become digital witnesses. Amateur videos of bombs exploding, people being abused or even shot dead are distributed almost in real time via social media. Digital investigators use various forensic methods, from internet tracking to DNA analysis, to analyse and verify this deluge of images, supporting them with other evidence and scientific expertise. These criminological investigations have only one purpose: to bring to justice those who violate human rights. We meet investigative teams who use these cutting-edge technologies to document their research into the war in Ukraine, the destruction of Mali's cultural heritage, the search for mass graves in Colombia and the "Black Friday" bomb attacks in Gaza. We witness the entire investigative procedure, from training and visiting the scene of the crime, securing and analysing forensic evidence, to presenting their evidence in court.
Wij zouden het leuk vinden u die avond van
tevoren  – vanaf 18:45 uur waarschijnlijk – te ontmoeten. Wij hebben de documentaire-maakster Anja Reiss bereid gevonden om voor ons het maakproces van haar film toe te lichten. Dat maakt ongetwijfeld dat u de documentaire met andere ogen zult kunnen bekijken.
De kosten (€ 15,- voor filmkaartje, inleiding en een drankje) zijn voor eigen rekening, wij vertrouwen op uw begrip hiervoor. Uiteraard is het mogelijk om bovenop de kosten voor het filmkaartje een extra bedrag over te maken als gulle gift zodat de Stichting Rechters voor Rechters activiteiten kan blijven ontplooien ten behoeve van collega's in nood.
Over het precieze programma wordt u – na aanmelding – nog geïnformeerd. Maar in verband met de verdere organisatie is het van belang dat wij zo snel mogelijk weten hoe groot de groep ongeveer zal zijn. Als u geïnteresseerd bent, kunt u dat eenvoudig laten weten door uiterlijk 18 maart 2018 een e-mail te sturen aan info@rechtersvoorrechters.nl en in de titel te vermelden "MtM 2018 ja, ik kan & wil" en te vermelden hoeveel kaartjes u wilt hebben.