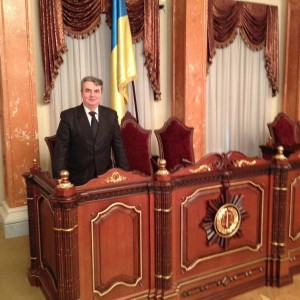 Cinco años después de su [despido] como juez del Tribunal Supremo y tras dos años de la sentencia de la Corte Europea de Estrasburgo, Oleksandr Volkov ha sido reintegrado en su puesto como juez en el Tribunal Supremo de Ucrania.
Fue un magnífico 'regalo de Navidad' que el parlamento ucraniano, el día 25 de diciembre de 2014, revocara la decisión de despido del día 17 de enero de 2010, para así aplicar la siguiente parte de [la sentencia] de Estrasburgo:
'208. Having said that, the Court cannot accept that the applicant should be left in a state of uncertainty as regards the way in which his rights should be restored. The Court considers that by its very nature the situation found to exist in the instant case does not leave any real choice as to the individual measures required to remedy the violations of the applicant's Convention rights. Having regard to the very exceptional circumstances of the case and the urgent need to put an end to the violations of Articles 6 and 8 of the Convention, the Court holds that the respondent State shall secure the applicant's reinstatement to the post of judge of the Supreme Court at the earliest possible date.'
Abajo véase la noticia publicada por el Centro Europeo de la Abogacía de Derechos Humanos (EHRAC, con sus siglas inglesas), la organización que ha ayudado a Volkov en el procedimiento llevado a cabo en Estras­burgo, con ocasión de la reintegración de Volkov en su cargo:
"Mr. Volkov was dismissed from his position as Supreme Court Judge in Ukraine on 17 January 2010, under then President Viktor Yanukovych. On 9 January 2013, the European Court of Human Rights ruled that his dismissal was unlawful and was a flagrant denial of the natural course of justice. On 25th December the Verkhovna Rada voted with a majority of 257 to implement the judgment of the European Court and to abrogate its resolution of 17 January 2010 concerning the dismissal of Mr. Volkov. However it has taken until now, two years later, for this ruling to be implemented, and on Monday 2 February, Mr. Volkov will be reinstated to his former position.

Mr Volkov said of his upcoming reinstatement, 'It took nearly two years and a change in the parliamentary makeup in order to have this part of the judgment executed. This shows again that the former regime, including the huge number of parliamentarians which supported it, never set any real goals aimed at the European integration of Ukraine, and did its best to obstruct European values and democratic standards…I am honoured to have the opportunity to support this [change] …, which would convert Ukraine into a truly democratic, lawfully governed, social state."
The case is particularly significant in light of the regime change in Ukraine. Mr. Volkov has been working within President Poroshenko's administration, and it is during a session on 25 December 2014 that the Verkhovna Rada voted overwhelmingly in favour of his reinstatement. Moreover, Volkov was the first case in which the European Court has ever ordered a person's reinstatement. So it was a big test for both Ukraine and the Court. That he will actually be reinstated on Monday is incredibly important news for both parties. Previously the old regime had even cited the British anti-ECHR (European Convention on Human Rights) position in arguing against complying with this judgment.
Prof. Philip Leach, who represented Mr. Volkov at the European Court, said:
 "It is a recurring and deeply regrettable problem that states frequently fail to comply with judgments of the European Court. This was the first case in which the Court has ordered that someone unfairly dismissed should be reinstated, and so it is very good news that Ukraine has complied and that Judge Volkov is back at the Supreme Court. However, substantial law reform, including constitutional changes, are still required as a result of the Strasbourg judgment so as to root out the systemic problems in the Ukrainian judicial system which the decision identified'.''
Y ¿qué hay de Oleg Bachun? posiblemente se preguntará, el otro juez destituido que visitó los Países Bajos en marzo del 2014 por [invitación de Jueces para Jueces].
Bachun actualmente está trabajando como diputado f
iscal-general, su procedimiento (y lo de los otros 17 jueces destituidos) sigue adelante en Estrasburgo. En este momento se realiza un intercambio escrito de posiciones. También Bachun es ayudado por el prof. Philip Leach de EHRAC. La última noticia publicada en el sitio web de la Corte de Estrasburgo se trata de la afirmación de hechos del 15 de enero del 2014 [Ver: application no. 5114/09 Andriy Volodymyrovych KULYKOV against Ukraine and 17 other applications].
Como entenderá, Jueces para Jueces sigue su caso con gran interés.
Descargue el boletín completo [PDF].